Contact

Paul Kayser


Banking Information:

Comptes Chèques Postaux Luxembourg
IBAN LU11 1111 2571 3080 0000
BIC: CCPLLULL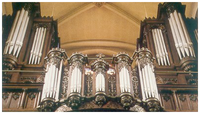 "Les Amis de l'Orgue de l'Eglise St-Alphonse Luxembourg a.s.b.l." have been created on 8th february 2008 
to  support the renovation of the beautiful organ of church St-Alphonse in Luxembourg-City.

The Organ at the Saint-Alphonsus-Church, Luxembourg/City

The actual organ of the Saint-Alphonsus Church in Luxembourg-City was built in 1923 by Stahlhuth-Haupt,
settled in Lintgen, Luxembourg, and placed into the case of the previous instrument.
It is a German-romantic organ which first had a pneumatic action, changed into electro-pneumatic in the 1950's.
During the years, several stops where changed by the actual taste.
In 1963, after Vatican II, when choirs had to sing downstairs in the church, a second console was installed here.
Conseil d'Administration


Président
Paul Kayser

Vice-Président
R.P. Benoît Rall C.SS.R.

Secrétaire
Serge Tani

Trésorier
François Theis

Membre
Rosch Mirkes