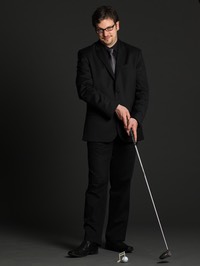 Lebenslauf in deutscher Sprache
Born in Luxembourg in 1979, Paul Kayser began studying organ in 1989 (class of Pierre Nimax jr.) at the Conservatory of Music in Luxembourg-City. Here he obtained 3 First Prizes (solfège, improvisation, organ-building) and 3 Superior Prizes (organ, harmony, counterpoint).
He continued his studies at the "Hochschule für Musik und Darstellende Kunst Frankfurt am Main" (Sacred Music and Concert Formation)  in the classes of Martin Lücker and Daniel Roth (organ), Winfried Toll (choir master), Gerd Wachowski (liturgical organ) and Godehard Joppich (Gregorian chant). These studies were completed with the concert exam at the "University of Arts" in Berlin, where Paul Kayser was admitted to the organ improvisation class of Prof. Wolfgang Seifen. 
Beside his studies, Paul Kayser worked also with Jean Boyer, Gillian Weir, Lorenzo Ghielmi, Olivier Latry, Pierre Pincemaille and Thierry Escaich. 
Paul Kayser was laureate at the Organ Improvisation Competition of Bad Homburg (Germany) in 2001 and at the "Orgues Sans Frontières" Competition in 2007. 
He regularly plays solo recitals, for example at festivals in Luxemburg, Germany, France, Spain, Czech Republic. His interest in chamber music led to concerts with flute, percussion, saxophone, singers and choirs. In 2005, he played as soloist with the Philharmonic Orchestra of Luxemburg at the « Festival d'Orgue de Dudelange ». The same year, he was on a concert tour in Japan with the « Pueri Cantores du Conservatoire de Luxembourg »
Having grown up with the famous Stahlhuth organ in Dudelange and after having served several years as organist of the famous St.Willibrordus Basilica in Echternach, Paul Kayser is today appointed organist of the St-Alphonsus church in Luxembourg City. He is music teacher at public high school in Luxembourg.
A choice of major Works composed:


 "Dialogue" (Meditation und Scherzo) für Violine und Klavier (2000), Auftragskomposition des "Ensemble Aquarius" (Luxemburgisches Ensemble für Neue Musik): 

"Vier Lieder" nach Gedichten von W. Blake für Mezzosopran und Klavier (2001) 

"Contrastes" für Orgel (2003), Auftragskomposition der "Amis de l'Orgue St-Martin Dudelange" 

 "Psalm-Gedicht" nach Psalm 88 für Saxophon und Orgel (2004) (Auftragskomposition des Kulturkreis "Celobrium", Soleuvre, Luxemburg) 

 "Nocturne" für Orchester (2005)

"Missa in memoriam Carlo Hommel" für 4 Solisten, 4-st. gem. Chor und Orchester (2006) (Auftragskomposition des "Ensemble Vocal Berdorf") 

"Ave Maria" für Sopransolo, 4-st. gem. Chor und Orgel (2006)

"Gloria Patri" für 4-stg. gem. Chor, 3 Trompeten, Pauken und Orgel (2007) (Auftragskomposition der "Maîtrise de la Cathédrale Notre-Dame de Luxembourg" zum luxemburgischen Nationalfeiertag 2007)

"Quatuor à cordes" (2008)

"Domine Salvum Fac" für Kinderchor, 4-stg. gem. Chor und Orgel (Auftragskomposition der "Maîtrise de la Cathédrale Notre-Dame de Luxembourg" sowie des "INECC" zum luxemburgischen Nationalfeiertag 2009)

"Pièce Concertante" pour 2 saxophones, marimba, timbales, piano et violon (2009)

Variatiounen iwer "T'as fréijoër" fir Klarinettequartett an Uergel (2010), Commande vun der Käerjénger Musikschoul

Fanfare für Orgel (2013), Auftagskomposition von Dr. Andrea Kumpe zur Herausgabe ihrer Orgelschule